Quality Improvement within the Idaho Department of Juvenile Corrections is an on-going effort to improve juvenile justice outcomes by:
Gathering and using data about clients and programs to foster informed decision-making;
Studying and improving processes and practices within the Department to improve consistency and efficiency; and,
Developing and implementing basic training for staff to improve professionalism and effectiveness.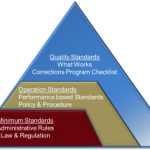 Quality Improvement reflects the commitment by the Department's staff to meet the organizational values of: Excellence & Quality; Responsible Partnership; Respect; Teamwork; and Resource Optimization.
People inside and outside of the Department contribute to the successful implementation of quality improvement by participating on program development and program review teams; by working to implement changes that are necessary; and by gathering the data to determine if those changes have been effective.
The benefits of quality improvement include: Reduced risk of liability; Prioritization of resources; Better compliance with rules and standards; and Better ability to demonstrate effectiveness.
Quality Improvement Strategies and Tools
Evidence-based Corrections Program Checklist (CPC) – The CPC (formerly CPAI) gives us a good indicator of a program's capacity to meet What Works guidelines and is a good indicator of the quality of a program.
Performanced-based Standards (PbS) – PbS collects comprehensive operational information about all areas of program practices, producing a report of performance in over 100 performance measure areas. Areas of focus include Safety, Order, Security, Health/Mental health, Programming, Justice and reintegration.
Administrative Rules – Standards of practice required of all contract programs that are also applied to the state facilities. These rules establish minimum operating standards (compliance) for our programs and include over 300 specific items.
These tools and strategies listed above define the quality practices applied at each of the three levels of quality assurance review within the Department.
For more information about quality improvement within the Idaho Department of Juvenile Corrections, please contact Monty Prow, Joe Blume, or Jessica Moncada.